The TAO SkyDragon is technologically speaking a so-called altitude platform for telecommunications and data transmission with a radius of up to 300 km, also known as High Altitude Pseudo Satellite (HAPS). It does not fly as high as the known communication satellites, but in the stratosphere at an altitude of up to 20 km. It is powered by solar energy from ultra-light thin-film solar cells or by batteries on board. One version of the spacecraft is buoyed by helium gas.
It flies autonomously within a predetermined radius, is launched and landed by a ground station and the on-board telemetry. It can take off from a simple ground infrastructure (without an airport or tarmac), is inexpensive, recyclable and reusable.
With a data transmission security of 99.9%, it can restore telecommunications for the population and rescue services anywhere in the world within 24 hours in the event of a disaster.
Selected applications and missions of the TAO SkyDragon (HAP):
DragonHead
Satellite launch without
expensive infrastructure
Deployment altitude:
from ground level to 18.000 meters
Environmentally friendly launch of small satellites with a reusable launch vehicle – from anywhere in the world, without expensive infrastructure. The TAO Group developed and built a special mini-satellite launch device (e.g. 3U-Cube).
Selected applications and missions of the satellite launch system:
Mission altitude:
10 up to 800 m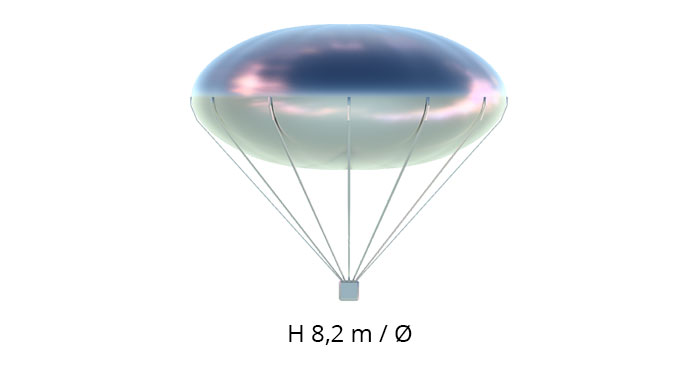 The TAO DragonCom system provides data transmissions for telecommunications, monitoring and surveillance for visibility ranges of up to approx. 20 km (at 50 m/164 feet flight altitude) – mobile or stationary. This TAO DragonCom system is able to extend the existing range for communication or provide last mile communication in rural areas.
The system consists of a flying, but tethered aerostat (helium filled), which can be brought to the appropriate flight altitude with a winch. This tethered aerostat system is capable of carrying a variety of payloads like (thermal) cameras, WLAN hotspots, telecommunication devices and so on – depending on customer requirements.
This solar airship is unmanned and has a solar energy supply that provides enough capacity for the mission. Deployments of the solar airship in recent years have led to a continuous improvement of the technologies. Since then this type of airship has been used for many research activities and also as a flying platform in other areas of science and security. Since 1996 this solar airship has been built. This airship type has already had numerous flight missions in Germany, Switzerland and Australia for the purpose of smog measurement and traffic and route monitoring. This type of solar airship is the only aircraft which – without producing its own emissions – is able to follow a precisely defined mission at a certain altitude for a longer period of time.
TAO has built two different special airships of the Mid Altitude Airship type. Both are unmanned, autonomously controlled "Lighter than Air" (LTA) airships.
The 34 meter long airship is a non-rigid, multi-segmented, rapidly deployable, rapidly deployable unmanned aerial vehicle (UAV) that fulfills a number of desired mission profiles at altitudes up to 5000 meters. Depending on weather conditions, it can be deployed continuously for several days, with the current version capable of carrying approximately 25 kg payload on board. This payload can, for example, guarantee an operational line of sight (LOS) of initially about 200 kilometers.
This airship utilizes many technological advances that are also used in the TAO Altitude Platform (HAP), including the TAO Fuel Gas Enhanced Endurance System, the Automated Flight Control System and the Segmented Module Design.
The airship design offers the advantage of rapid deployment from storage to launch. Typically, airships require a large hangar or exposed mooring platform, which increases cost and complexity and limits mobility.
Einsatzhöhe:
bis ??? Meter