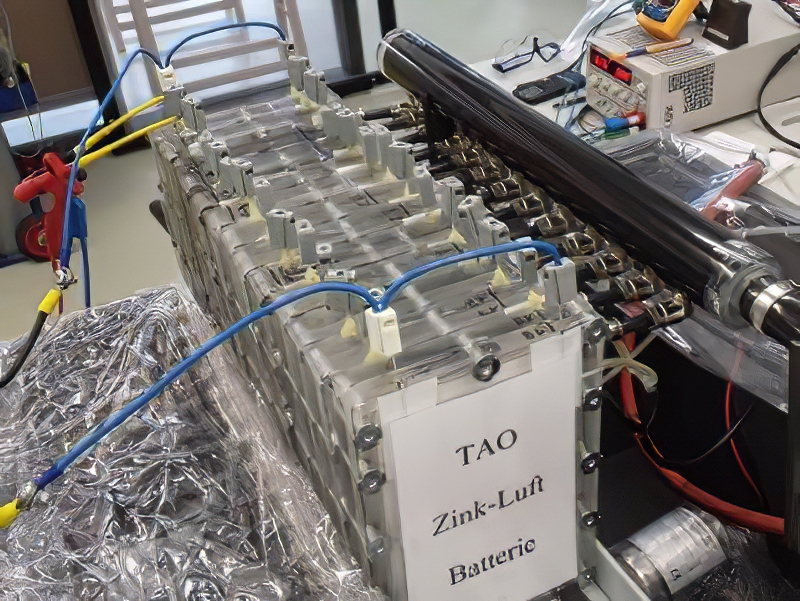 Recyclable new TAO Zinc-Air Battery
TAO is working on a new, fast rechargeable, fully recyclable, non-toxic metal-air battery with a high power density. This fast-rechargeable battery can optimize the energy storage of the future for wind turbines and e-mobility. The metal-air battery is environmentally friendly, non-flammable and contains no toxic substances. The inexpensive fuel zinc can be regenerated (solar)electrically, thus creating an energy cycle without material consumption. The production of the metal-air battery does not require a clean room as with lithium-ion batteries. It is foreseeable that this new zinc-air battery can be produced at extremely low cost.
Optimal Air Electrode for Metal-Air-Batteries
The performance of a metal-air battery often stands and falls with the optimal air electrode inside. The TAO-Group has developed a powerful air electrode with perovskite, which is of great interest especially for metal-air battery systems (e.g. zinc-air).
Compared to standard air electrodes, the perovskite air electrode already shows higher performances – even compared to more expensive platinum air electrodes. These special air electrodes are available in different sizes according to customer requirements for own battery tests. In addition to the assembled arresters, customized, individual arresters can also be manufactured according to customer requirements.
Further information about the TAO air electrodes as well as prices are available on request at the e-mail address info@tao-group.de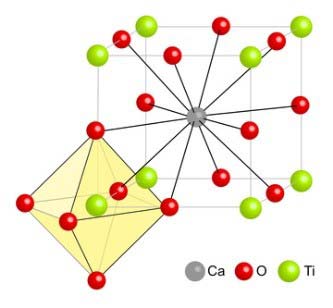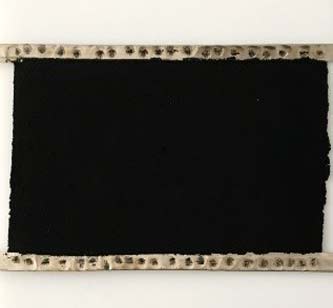 CO2-Free solar storage for heating
TAO has developed a heat storage that can heat with the summer sun without loss in winter. This special storage heats with the adsorption heat of silica gel, these small, hygroscopic spheres with a high inner surface. We tested the TAO silica gel storage including performance measurements in the so-called "Ice Bear Building" with flexible solar collectors in the membrane roof shell. The pioneering building was constructed as part of a joint research project with, among others, the DITF (German Institutes for Textile and Fiber Research) and was tested for five years in long-term tests. In addition to heating, a modified version of the silica gel storage can also be used for cooling and as an air conditioning unit.
Inflatable Membrane Architecture
Flexible, temporary, spectacular in appearance and usually also inexpensive compared to rigid, architectural buildings, "inflatable structures" are characterized by their optical eye-catching power. Due to its leading experience in the fields of membrane research and use of the latest envelope materials, TAO Group has been a specialist for unusual, individual and inflatable membrane structures for 19 years – and realizes them "Made in Germany".
Flying buildings and hangars
Legendary in the history of temporary buildings is the first building that "hangs" on the earth: "Helion" is a large ring construction filled with helium, which served as an exhibition building and as an airship hangar.
The flexible roof, consisting of ice-cream cone-shaped cylinders, could open – and the airship took off from the center of the hangar into the sky. Helion founded the development of the TAO Group in the field of inflatable structures.
Exhibition Halls / Temporary exhibition halls
Antoni Gaudi: What should an exhibition building look like that honours the art of Antoni Gaudi? It must literally have a special, amorphous, flexible, wavy form. An inflatable, soft form that eludes the fixed angular forms. Such an organic, soft-looking "inflatable structure" was realized in Barcelona for the Antonio Gaudi exhibition. This original building can be used in modified form and in any size for indoor and outdoor exhibitions and events. For example, such an "inflatable cocoon" accommodated the invited VIP guests for exclusive Zeppelin sightseeing flights.
A flying cloud, light as a feather, filled with helium, floats above the heads of the guests and visitors to the exhibition hall. Or, in a much stiffer membrane design, it can shade a Mediterranean roof terrace all year round, creating a special ambience for students and institute employees of a Spanish university. TAO Group realizes together with a long term European partner almost everything that flies architecturally or that can appear flying like the roof of a building.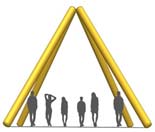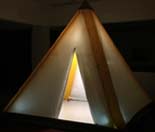 Inflatable emergency tent with signal character: Lighthouse
TAO Group together with development partners within a funded research project has developed and built a fully functional, temporary and energy self-sufficient emergency tent for fire brigades, Doctors without borders or emergency situations. Due to the special shape of the emergency tent, the so-called Lighthouse, our widely visible lighthouse, can also be used as an eye-catcher for fairs and exhibitions. The Lighthouse emergency tent can be delivered ready packed in an airfreight container: a landmark tent in the shape of a 4-sided pyramid with a usable tent interior of approx. 25 to 60 m². The supporting structure of the emergency tent consists of four pneumatic beams, so that the complete tent system can be quickly and safely erected by only one staff member. The inflatable emergency tent can be used at outside temperatures between -15°C and + 40°C and at an inside temperature of 22°C +- 5°C.
TAO Group is a specialist in prototype construction. Nearly all innovations of TAO Group are new inventions based on new ideas and structures. From conception, design to the finished prototype construction and its testing: TAO implements all development stages in its own halls in Stuttgart. For example, we have built a light carbon fiber vehicle for our new zinc-air battery. With an empty weight of approx. 150 kg, this little runabout is a smart city car based on the new generation of electric mobility. The SkyDragon (HAP or Pseudo Satellite) high-altitude platform for telecommunications and its development is also a pure TAO prototype development, prototype construction and test at its best.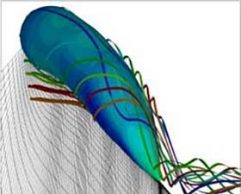 There is nothing that does not exist. It just hasn't been built yet! Research and development is our passion – everything we invent and implement is born of love for the positive new in the sense of sustainable technologies for the protection of nature and mankind. Curiosity and excitement drive our own developments and application-oriented research. Further R & D in projects with successful basic research is implemented by us in cooperation with leading institutes and universities such as the Fraunhofer Institute, the IAB Weimar, the DITF (German Institutes for Textile and Fiber Research) or the KIT – Karlsruhe Institute of Technology at the University of Karlsruhe.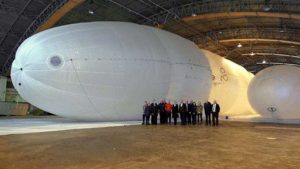 Research and Technology
We have carried out worldwide contract research and application-oriented research for international companies and institutions in the past 19 TAO company years. An interdisciplinary TAO Group team enables smart lateral thinking and fast implementation in research and development.
Read more about our extraordinary innovative strength in the specialist article "When ideas fly" in the magazine "Return" (link to News) and in our current book and management guide "Innovation Management", which will be published by Gabler-Springer Verlag in October 2020.